Physiotherapy at Infield Chiropractic
Physiotherapy at Infield Chiropractic
Written By Infield Chiropractic Office on January 3, 2022
---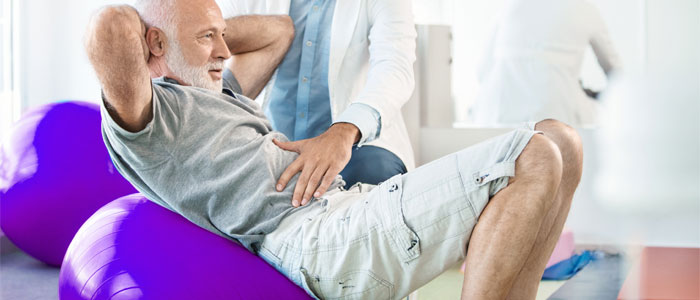 At Infield Chiropractic, your well-being is our top priority. Whether you are experiencing an injury from work, sports, or an accident, we are here to reassure you that recovery is possible. Through natural, non-invasive healing, restored mobility is our goal.
What Is Physiotherapy?
At Infield Chiropractic, we define physiotherapy as soft tissue therapy and rehabilitative exercise. Physiotherapy is an effective treatment choice for a variety of conditions, including mild auto accident injuries and surgery recovery. Physiotherapy helps restore movement and function when a patient is affected by injury, illness or disability.
Unlike other forms of treatment, physiotherapy involves the patient in their own care. During your physiotherapy appointment at Infield Chiropractic, you will be educated on the necessary care, how to perform care, and how to maintain progress. Patient awareness and participation is crucial to the success of physiotherapy as treatment. The end goal of physiotherapy is to increase range of motion and to increase strength to prevent future injury
How Can Physiotherapy Help?
Your recovery is our first priority. Our physiotherapy program focuses on tailored, individualized care that considers your unique situation. Your physiotherapy program may include soft tissue therapy and guided, rehabilitative exercise. By targeting soft tissue, tension may be released and mobility may be increased.
Many patients are familiar with exercise as part of physiotherapy. Following an injury or surgery, your mobility can be impaired. Through guided exercise, your body will be eased into motion. These processes will allow your body to heal effectively and in proper alignment.
Physiotherapy is beneficial to undergo prior to surgery to help improve the outcome and your body recover faster. In fact, physiotherapy can help some patients avoid surgery altogether.
Physiotherapy is a non-invasive, holistic form of care. Most people can benefit from a form of rehabilitative exercise or physiotherapy at various points of their lives. Even if you are not dealing with a chronic injury, physiotherapy can alleviate pain, soreness, or misalignments. Our family of doctors is highly experienced in providing personalized care with sustained results. With evidence-based practices and treatment, your recovery is in trustworthy hands.
Find Pain Relief With Physiotherapy
Physiotherapy can be the key to feeling your best after surgery or a severe injury. At Infield Chiropractic, we put your recovery process first. Schedule your appointment by calling our Kingsville, Ohio office at (440) 224-0680 or our Euclid, Ohio office at (216) 938-7889.

Posted In: Physiotherapy Auto Injury Treatment Soft Tissue Therapy Work Injury Sports Injury Chronic Injury